Proven quality with a modern, clean look
VEKAdeck Grooved Deck Board
Groove provides a clean-looking deck surface without visible screws. VEKAdeck Signature Groove deck board was developed after months of design variations and testing. It is compatible with most hidden deck fasteners designed for slotted PVC deck boards. With no visible screws, the beauty of the wood grain pattern is showcased.
Top surface is not penetrated with screws, plugs or other systems that may compromise dimensional integrity.

Faster installation than conventional deck board.

Lightweight cellular extrusion process yields low specific gravity making VEKAdeck lighter than wood and composite materials.

VEKAdeck Groove is splinter-free.

Slip-resistant, wet or dry.

PVC has a high self-ignition temperature, a slow burn rate and will self extinguish if the flame is removed.

Low-maintenance, resists fading and never needs painting or sealing.
Installation gallery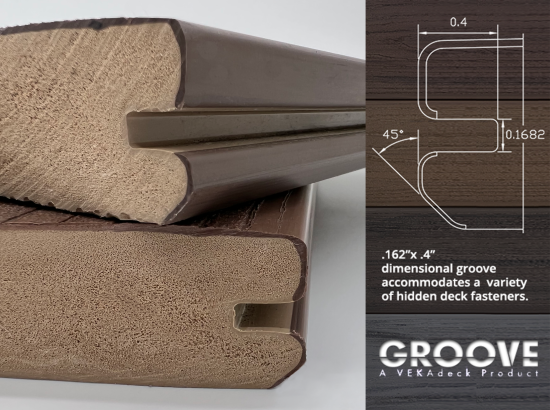 VEKAdeck Groove is backed by the no-nonsense warranty that has been around for over two decades.
Colors may appear slightly different on screen than on actual product.